Ride Wrap: How To Protect Your Bike Frame
No matter how much care you put into your bike, chips and scrapes are unavoidable. While these typically won't damage the structural integrity of your bike, they do leave you with a frame that looks like it had better days.
An estimated 341,900 Australians participate in mountain bike riding each year. And of those riders, every bike owner runs into the same problem throughout their bike ownership.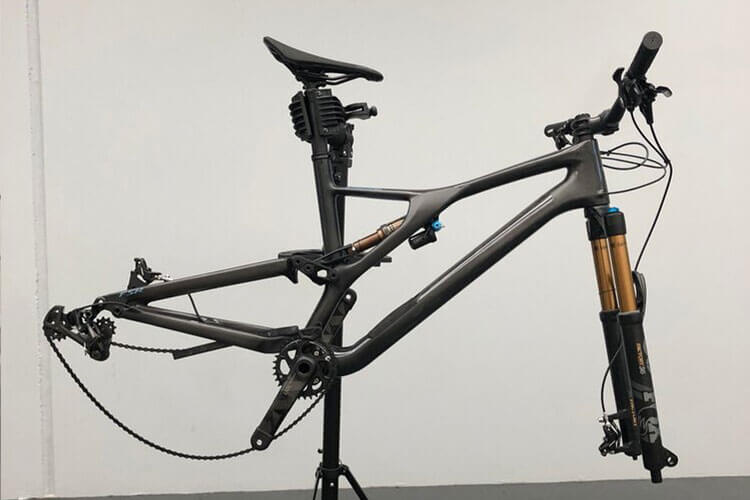 What is Ride Wrap?
Ride Wrap is an innovative bike protection made by riders, for riders.
Designed, engineered and tested in Whistler, Canada, Ride Wrap is the brainchild of bicycle enthusiasts Callum Rostron and Dan Seguin. After seeing the wear and tear that all bikes suffer, they set out to create a durable and high-performance product to protect customers' bikes - while eliminating the risk of damage through hand-cut tints.
Ride Wrap offers:
10-year warranty against yellowing and cracking
Choice of matte or gloss finish matching your factory paint
Low surface energy meaning dirt slides right off
Self-healing film causing minor marks and scuffs to vanish in sunlight
Offering up to 95% protection against rock chips and scratches, Ride Wrap's computer-cut paint protection is engineered for precision. It offers an advanced form of protection that racer tape and frame guards can't match.
How Does Ride Wrap Work?
Ride Wrap provides custom, computer-cut paint protection film templates to suit almost all mountain bikes on the market (with an ever-growing catalogue).
And that's all just a very technical way of saying your bike is protected with its own self-healing film.
Like the paint protection films used on vehicles, Ride Wrap is applied as a top coat with self-healing technology causing light scuffs, scratches and marks to disappear through direct sunlight or gentle heat (think a hair dryer on low setting). Nicks, abrasions and scrapes slowly even out over time, with heat "filing in" the gaps caused by environmental irritants.
As an added bonus, Ride Wrap films offer considerably lower surface energy than your factory paint, making it difficult for dirt and grime to stick. That means you spend less time hosing down your bike and wiping off caked mud.
Ideal for muddy trail rides, you can say goodbye to those hours spent rinsing and soaking your bike. With Ride Wrap, you've got freedom to enjoy the road/trail/wherever you're heading knowing your bike's self-healing vinyl is removing wear and chips for you.
Oh, and for any weight-watchers out there, Ride Wrap's full wrap kit (offering complete bike coverage) adds just 50 grams to the overall weight, so you won't notice a difference.
Are Ride Wraps Suitable for All Mountain Bikes?
Every mountain biker shares a love of the outdoors and hitting the trails, but every mountain bike is unique.
Ride Wrap is designed to suit bikes of all tyre sizes, geometry, weight, suspension, seat posts and styles. Whether you ride a fat-tyred drop bar bike, a light-weight hardtail bike, or a full-suspension downhill bike, each product has been engineered to complement your ride, and ensure lasting protection no matter what surface you're tackling.
Sand. Gravel. Mud. Hard-packed soil. Rocks. Tree roots.
When the terrain can be anything, Ride Wrap products deliver durability, appearance and performance.
Ride Wrap Offers Durability Without the Cost
Repairing chips and covering damage marks is a time-consuming and expensive process you can do without.
Maybe it's comparing shades on a RAL colour chart and ordering matching tones from a specialist paint store (no thanks). Maybe it's sourcing ultra-fine sandpaper (we're talking 1500 grit if you want to see results without scraping paint from your frame) to target nicks and scuffs.
Either way, you can easily sink your entire weekend, not to mention your savings, into bike upkeep and maintenance.
As the cost-saving alternative, Ride Wrap offers the highest frame and fork coverage on the market. Ride Wrap's thermoplastic polyurethane film (TPU) is 8.2 mils* thick outdoor grade designed to prevent cracking and resist discoloration for up to 10 years.
So whether you install your own clear barrier, or find your local accredited Ride Wrap installers (*hint* us) you've got peace of mind protection.
*1 mil = 1/1000th of an inch
Peninsula Tint & Paint Protection Are Your Local Ride Wrap Installers
Let's be real, mountain bikes are designed to be tested against the elements. Still, just because you're at home on trails and off-road rides doesn't mean you should sacrifice the look and feel of your bike.
Fresh paint, plating, anodizing. These are all common strategies to try and protect against abrasions. But to save costs and time in the long-run, Ride Wrap's frame wrapping offers the tough, clear finish you need to keep your bike looking fresher for longer.
Whether you want to protect your bike and promote resale value, or you've found the perfect steed and want to enjoy it for years to come, it's nice to know you can enjoy your bike and protect it too.
Peninsula Tint & Paint Protection is one of an exclusive number of Australian-based Ride Wrap dealers. As the only locally accredited Ride Wrap installers, we also provide full cleaning, maintenance and sale of DIY Ride Wrap kits.
Are you ready to enjoy that "fresh out of the shop" feeling for years to come?
If you have any Ride Wrap queries, please don't hesitate to contact a member of our friendly customer support team using the contact form below or request your 100% FREE quote on 03 5909 8558 today.